Upper class district (Stag and Rose)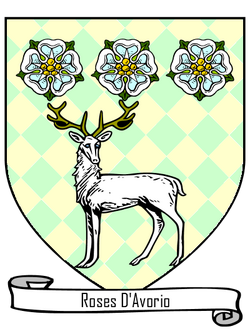 The most beautiful district, the largest and arguably the most influential (though that honor in reality goes to Incudine with its many guildhouses), Roses is the home of the upper class and the fading nobility. Roses holds many of the city's most impressive landmarks. Hidden courtyards and secret gardens house ancient varieties of rosebush historically espaliered but now frequently growing in riotous profusion of blooms and thorns. Roses is in actuality two districts, Roses D'Avorio (ivory) and Roses di Sanguigno, separated by the Grand Canal and ancient and irreconcilable differences.
The DiVetro Bridge, an ancient bridge of frosted glass decorated with the roses that gives the district its name, spans the Grand Canal and binds the twin districts of Roses together. The bridge subtly changes in color from blood-red on one bank to ivory on the opposite. Local legend says that the district was once all Roses D'Avorio until the War of the Brothers when the bloodshed was so considerable that it stained one end of the bridge red.
The White Cloak headquarters, the city's internal police force.
Ad blocker interference detected!
Wikia is a free-to-use site that makes money from advertising. We have a modified experience for viewers using ad blockers

Wikia is not accessible if you've made further modifications. Remove the custom ad blocker rule(s) and the page will load as expected.