Ethnic district (Badger and Cog)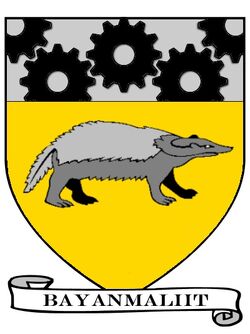 Báyanmaliít, often called Little Town or mispronounced by non-gnomish speakers as Bangin' Mallet, is a neighborhood populated largely by gnomes, but many halflings have moved into the neighborhood finding the scale and homes to their liking.
Báyanmaliít is characterized by tapering round towers connected by a myriad of bridges at multiple levels with billowing plumes of multicolored smoke and numerous waterwheels and strange whirring mechanical gizmos.
As with many districts, Báyanmaliít has a number of successful businesses. An example is the Sugar and Spice Bakery, which successfully brings gnomish innovation to the art of baking. Businesses such as this add to the economic power of the district.
At the center of the district is the School of High Artifice a fantastical continually expanding structure where alchemy and mechanical tinkering reach their peaks. Here the Gnomidrad meets to govern the district and school. The body includes the Head of the Alchemist's Guild, Little Town's representative to the Eleven, and Zenari da Cordone - the only human member of the Gnomidrad - head of the Cordone Scarlotti family and genius. As such it controls three votes on the Grand Council and enjoys great political power within Venza.
The School of High Artifice also creates and maintain the notoriously buggy Clockwork Guard who form a formidable part of Venza's defenses, but are forbidden the streets anywhere save Little Town - due to several unfortunate incidents. Most Masters - with a mechanical bent at least - have designed and maintain their own clockwork guard and they are constantly competing to better their rivals by improving their own invention.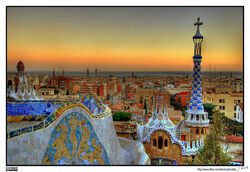 Clockwork Guard:
Mechanical contrivances, usually vaguely man shaped, which use the Animated Object stats and occasionally go haywire. If mechanics are desired for them "going haywire" see the Clay Golem's Beserk "Ability".
High level or specific Clockwork Guards may be represented by other appropriate constructs, such as Inevitables, golems are largely inappropriate due to their magical natures. Though many speculate that the Clockwork Guards guidance systems must be magical in nature they generally do not detect magic - some have rare specimens have magical weapons fitted, etc.
Ad blocker interference detected!
Wikia is a free-to-use site that makes money from advertising. We have a modified experience for viewers using ad blockers

Wikia is not accessible if you've made further modifications. Remove the custom ad blocker rule(s) and the page will load as expected.