Amenthia

(Consort)

Titles
The Golden Feather,


The Grand Healer,
The Healing Hand,


Alignment
Lawful Good
Portfolio
Healers, Herbalists, Doctors, Order keeping
Worshipers
Farmers, Clerics, Apothecaries, Lawmen
Cleric Alignments

| | | |
| --- | --- | --- |
| LG | NG | CG |
| LN | N | CN |
| LE | NE | CE |

Domains
Healing, Protection, Good, Law, Community
Favored Weapon
Quarterstaff
Symbol
A Golden Feather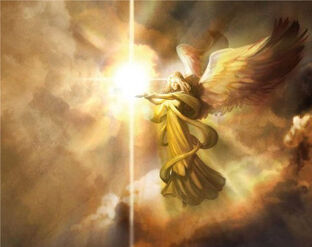 It is said that Amenthia is related to the Goddess Ruvalra. Unlike the Harvest Goddess, The Grand Healer interest lies on the well being of townsfolk and to uphold the laws of civilization.
She appeared a little after Ruvalra in a small village east of Tritower. The place had been struck by a mysterious sickness and chaos had started to spread among the villagers. Amenthia gave detailed instructions on how to stop the plague to the local healer, who later became her first cleric.
The chapel in that town also doubles as an infirmary. She asks her clerics to look for the sick and serve communities in need. Amenthia was described as an adult woman with bright wings and long flowing hair.
Temples and Clergy
Edit
A small chapel in a village near Tritower.
Notable Followers
Edit
Ad blocker interference detected!
Wikia is a free-to-use site that makes money from advertising. We have a modified experience for viewers using ad blockers

Wikia is not accessible if you've made further modifications. Remove the custom ad blocker rule(s) and the page will load as expected.